25.5.2012 – 21.7.2012
Opening reception: Friday, 25/5/2012, 12 noon.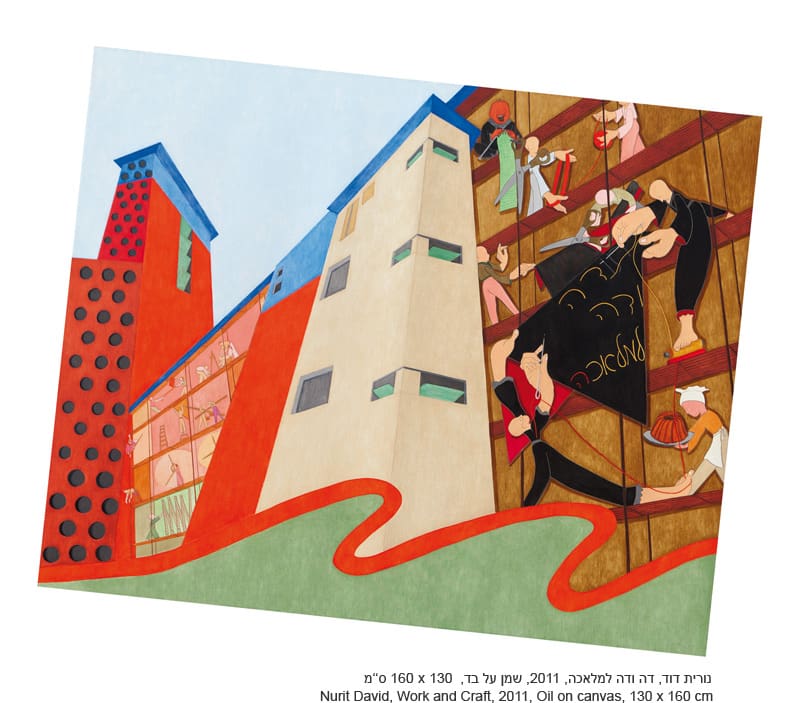 Nurit David – Care of the Sick and Late Spring
The two floors of Givon Gallery give an opportunity, now as well as in the previous exhibition of Nurit David, to express in spatial terms the passage and the ascent indicated in the two series of works on show, from one existential state to another, in this case from "Care of the Sick" to "Late Spring".
Tel Aviv is the common arena for both series, but it is a Tel Aviv given to influences of other times and places (Europe and Japan) and one that undergoes transformations in terms of colors and styles. In "Care of the Sick", the inspiration for which came from the Siena fresco cycle of the mid fifteenth century painter Domenico Di Bartolo that bears the same title, the city is depicted as a bustling hospital on scaffoldings, populated by the sick and the infirm and by nurses and attendants, who lead a precarious existence, running along the high planks. In accordance with the subject matter the colors assert themselves in high volume and convey urgency.
In climbing the stairs to the second floor you see a Tel Aviv that is restored to her reputation as a white city and her buildings turn into wedding dresses for a bride who experiences a "Late Spring". Yes, it is a wedding, the kind that takes place after sickness and death, in a second level of being.
The show is comprised of oil paintings and works on paper and is accompanied by a catalogue designed by Magen Halutz with an article by the artist.

נורית דוד – דאגה לדואבים ואביב מאוחר
שתי הקומות של גלריה גבעון מאפשרות גם הפעם, כמו בתערוכה הקודמת של נורית דוד, ביטוי פיזי לעלייה הנרמזת בשתי סדרות הציורים המוצגות, ממצב קיומי אחד לאחר, הפעם מ"דאגה לדואבים" ל"אביב מאוחר". תל אביב היא זירת ההתרחשות המשותפת לשתי הסדרות אבל זאת תל אביב שנתונה להשפעות של זמנים ומקומות אחרים (אירופה ויפן) והיא עוברת טרנספורמציות סגנוניות וצבעוניות. ב"דאגה לדואבים", בהשראת סדרת ציורי קיר מסיאנה של דומניקו די ברתולו מאמצע המאה ה-15 הנושאים אותה כותרת, העיר מתוארת כבית חולים הומה על פיגומים, מאוכלס חולים ואחיות רחמניות ששמץ סכנה מרחף על התרוצצותם בגבהים לאורך הקורות הצרות. ברוח התכנים גם הצבעוניות דוברת בקול רם ואומרת דחיפות
בעלייה לקומה השנייה תל אביב משוקמת כעיר לבנה ובנייניה הופכים שמלות לכלה שזהו לה אביב מאוחר. כן, מדובר בחתונה, כזאת שמתרחשת לאחר מחלות ומוות, בקומה השנייה של הקיום
בתערוכה יוצגו ציורי שמן ועבודות על נייר והיא תלווה בקטלוג בעיצוב מגן חלוץ ובו ספק סיפור ספק מאמר מאת האמנית
Images
[Best_Wordpress_Gallery id="19″ gal_title="Nurit David Care of the Sick"]
Press (Hebrew)



אלבישך שמלת באוהאוס – עוזי צור